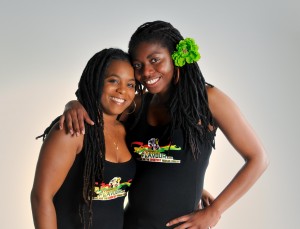 Meet the woman behind Empress Flavour!
Mahelia & Esmeralda met each other in 2004.
Due through their shared love for (reggae) music, they came up with an idea to start a radio show.
They joined hands and in August 2005 they were in the studio and launched their own radio programme on Radio mArt, called: Empress Flavour.
Radio mArt is the biggest Multicultural Radio and Televisionstation of Amsterdam. They offer a variety of programmes with news, current events, music, information, discussions and amusement.
For the full schedule of the programmess log on to the website of Radio mArt.
Every Sunday from 17.00-19.00 Empress Flavour brings you the sweetest reggae vibes, the hottest dancehall tunes and the lovely Caribbean vibes of zouk and soca.
In their show you can win free tickets to upcoming reggae shows and reggae parties, hear the interviews with your reggae artists, your special requests will be played and new talent is also promoted in the show.
In July 2006 they started organizing The Official Bustrip from Holland to Summerjam which has been a success from the start.
Since 2010 they are also the organizers of Bustrips to Reggae Geel in Belgium.
Empress Flavour's aim is to promote reggae music and also give the upcoming artists the support.
We give you the sweetest music and make you feel good anytime you hear their tunes on the radio!
Don't miss out and tune in every Sunday from 17.00-19.00 on Radio mArt
If you want to advertise in our programme or on Radio mArt, please contact us at info@empressflavour.com